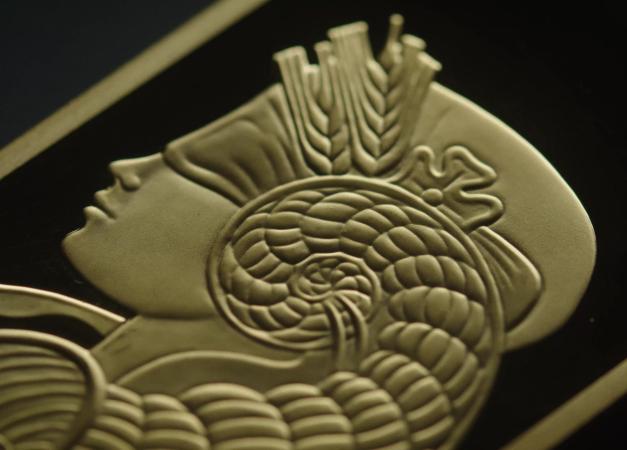 Apr 2023
The World's Leading Minted Gold Bar is Now Carbon Neutral
Ticino – April 12th, 2023 – MKS PAMP, a provider of financial and physical trading services, and fabricator of the widely recognized PAMP branded precious metals products through its state-of-the-art refinery and mint, continues to pioneer the precious metals industry by producing the first carbon neutral gold minted bar certified by the Carbon Trust. MKS PAMP has worked with the Carbon Trust, a global climate consultancy and carbon footprinting expert, to achieve Carbon Neutral certification for its iconic PAMP 1oz Lady Fortuna minted gold bar. Introduced in 1979, the Lady Fortuna was the first artistic design to ever decorate a precious metals bar. Today, it is world-renowned as a trusted symbol assuring the PAMP brand's quality and authenticity.
Renowned for its distinctive proof-like finish, proprietary authentication and security technology, the PAMP 1oz Lady Fortuna minted gold bar was already highly regarded for its unique features. Now with the milestone Carbon Neutral certification and the tangible commitment that comes with it, the classic gold bar reaches new heights of distinction, setting new standards for sustainability and featuring countless benefits for both distributors and consumers.
Chris Carkner, Global Head of Minting, MKS PAMP, commented: 'The Carbon Neutral certification of the PAMP 1oz Lady Fortuna gold bar, a longstanding, high demand product, represents a unique opportunity to substantively serve distribution partners across diverse markets and end-consumers that are increasingly demonstrating a preference for carbon neutral products.'
The Carbon Neutral 1oz Lady Fortuna of 999.9 fine gold is now available for wholesale purchase through MTB, the MKS PAMP GROUP's global distributor of bullion bars and coins. Retail investors can purchase the certified 1oz Lady Fortuna from the Group's online retailer GOLD AVENUE and from PAMP authorized and leading precious metals retailers - listed here.
The product's certification – that can be recognized by the Carbon Trust's footprint label on the bar's assay card packaging – leaves the distinguished Lady Fortuna bar design unchanged, as well as the quality and purity standards for which the PAMP bullion brand is globally recognized.
'The Lady Fortuna is precious metals investors' and collectors' most sought-after product. Having it achieve Carbon Neutral certification across its one-ounce gold range allows for greater awareness of GHG emissions throughout the value chain and demonstrates the benefits of our minted product – which sets the standards for environmental consciousness', said Tamara Jomaa-Shakarchi, Head of ESG and Philanthropy, MKS PAMP. The 1oz Lady Fortuna further diversifies the company's carbon neutral gold portfolio, which also includes the best-selling 1kg bar and the 12.5kg large bar.
Since 2021, MKS PAMP has worked with the Carbon Trust to achieve carbon neutrality of its most commercial gold products, in accordance with PAS 2060, the internationally recognized specification for carbon neutrality. The Carbon Neutral certification indicates that the carbon emissions generated across the product's lifecycle are measured, certified, and committed to reduction year after year. The remaining emissions are then compensated through environmental projects called voluntary carbon offsets, based in countries MKS PAMP operates and sources from, and in accordance with its corporate values. 
To offset the outstanding GHG emissions of the PAMP 1oz Lady Fortuna gold bar, MKS PAMP has selected the 100 MV Solar project (Ref: 1842) based in Bhadla village, in the state of Rajasthan. The Indian electricity grid is mainly based on coal use, which represents a major source of CO2 emissions in India. This project involves the installation of a solar photovoltaic plant whose clean electricity will replace the electricity produced by thermal power plants feeding the Indian grid. The 100 MV Solar project will therefore prevent greenhouse gas emissions estimated at 146,086 tCO2e per year and replace 154,179 MWh/year of electricity generated by the fossil fuel power plants that supply the Indian grid. In addition to its environmental benefits, this project will generate local employment opportunities during its construction and operation phases, promote investment in solar power generation and develop the region's infrastructure.
Ends.
Notes to editors:
For further enquiries, please contact: Gloria Folidis / e: gloria.folidis@mkspamp.com / t: +41 22 818 52 74

About MKS PAMP 
With a global footprint and over 60 years of experience in the precious metals industry, MKS PAMP – part of the MKS PAMP GROUP – is dedicated to creating a sustainable future with precious metals products and services. The company offers the world's most extensive range of durable, innovative, and responsibly sourced precious metals products and services. The company builds on leading artisan savoir-faire and Swiss engineering to manufacture a wide range of products in all four precious metals and in various forms, and provides precious metals services such as trading, refining, vaulting and storage, treasury, and mine financing. 
Still managed by the founding family, MKS PAMP is an advocate for long-term thinking, responsible sourcing, sustainability, and ethics, working closely with its stakeholders to set the highest codes of conduct in the industry. MKS PAMP developed Provenance, a traceability solution that utilizes blockchain to trace precious metals along the supply chain and guarantee responsible sourcing globally. MKS PAMP aims to create value by leveraging its technical expertise, innovations, and global infrastructure to be an indispensable global partner and the most sustainable organization in the precious metals industry. 
For more information about MKS PAMP and its decarbonization progress, visit mkspamp.com/carbonneutralgold or email ESG@mkspamp.com. 

About the Carbon Trust 
The Carbon Trust is a global climate consultancy driven by the mission to accelerate the move to a decarbonised future. It has been pioneering decarbonisation for more than 20 years for businesses, governments, and organisations around the world. 
Drawing on a network of over 300 experts internationally, the Carbon Trust guides organisations through their journey to Net Zero. From strategic planning and target setting to delivery, activation, and communication – the Carbon Trust provides smarter ways to turn intent into impact.