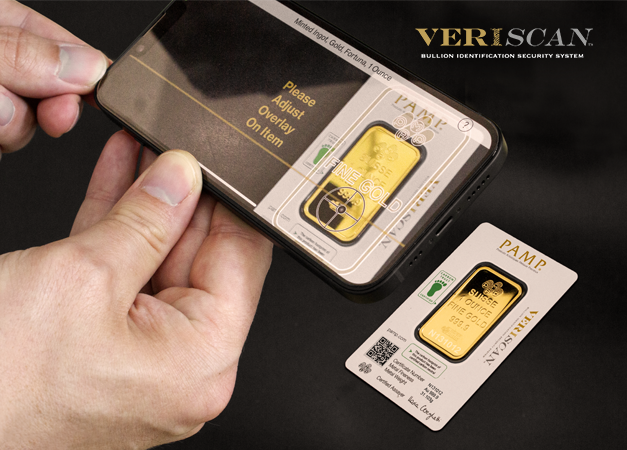 Mar 2023
VERISCAN™'s bullion authentication technology achieved LBMA accreditation
Geneva – March 1st, 2023 – MKS PAMP, a provider of financial and physical trading services, and operating a precious metals refinery and state-of-the-art mint, is pleased to announce that AlpVision, the cutting-edge invisible anti-counterfeit technology leveraged by MKS PAMP's proprietary bullion identification solution, VERISCAN™, has achieved the London Bullion Market Association (LBMA) Security Feature accreditation as part of the LBMA Gold Bar Integrity (GBI) program. This exclusive accreditation recognizes VERISCAN™'s adherence to the highest industry standards, ensuring a reliable way to authenticate registered PAMP precious metals products through a simple scan.
 
Trust is the bedrock of the wholesale, physical gold market. The GBI initiative, launched by LBMA and the World Gold Council (WGC), is expected to enhance trust in the precious metals industry, by monitoring gold moving through the global supply chain, thereby mitigating illicit trade risks and reducing the likelihood of fraudulent bars entering the formal precious metals supply chain.
"Trust is the bedrock of the bullion market. The certification comes at a time when the precious metals industry is experiencing an increase in counterfeit products. The VERISCAN™ technology provides a solution to this significant problem by helping consumers, investors and market participants to verify that their gold is genuine. This distinction recognizes the effectiveness and efficiency of the VERISCAN™ solution.", said Marwan Shakarchi, CEO, MKS PAMP.
Consistent and highly accurate
Non-destructive
Fast and intuitive
Highly portable and widely accessible
Cost-efficient
The VERISCAN™ technology provides a fast, efficient, and virtually risk-free way to authenticate any PAMP product bearing the VERISCAN logo. Similarly to using a fingerprint reader system, VERISCAN™ captures the unique surface profile of each PAMP bullion product, reconciling it with MKS PAMP's production digital record which is securely stored in a central database.
VERISCAN's advanced scanning technology allows anonymous and instant authentication of registered PAMP products via a simple scan using the VERISCAN™ mobile phone application. Scans can authenticate bullion bars within or without their sealed assay card packaging, and larger bars can be verified on all six sides for enhanced authentication.
LBMA accreditation is widely recognized as the hallmark of quality and trust in the precious metals industry. The LBMA's Good Delivery List is the international standard for gold and silver bars and coins, and LBMA-accredited refiners must meet strict criteria for ethical, environmental, and quality standards.
"We are delighted that our VERISCAN™ solution has received LBMA accreditation, which is a testament to our commitment to excellence and innovation," said Marwan Shakarchi. "As the precious metals industry continues to evolve, we remain committed to providing our customers with the highest quality and most reliable products and services."
To learn more about VERISCAN™ and MKS PAMP's other innovative products and services, visit pamp.com/innovation
Download the app on the App Store
Ends.
Notes to editors: 
For further enquiries, please contact: Gloria Folidis / e: gloria.folidis@mkspamp.com / t: +41 22 818 52 74 
About MKS PAMP  
 
With a global footprint and over 60 years of experience in the precious metals industry, MKS PAMP – part of the MKS PAMP GROUP – is dedicated to creating a sustainable future with precious metals products and services. The company offers the world's most extensive range of durable, innovative, and responsibly sourced precious metal products and services. The company builds on leading artisan savoir-faire and Swiss engineering to manufacture a wide range of products in all four precious metals and in various forms, and provides precious metals services such as trading, refining, vaulting and storage, treasury, and mine financing.  
 
Still managed by the founding family, MKS PAMP is an advocate for long-term thinking, responsible sourcing, sustainability, and ethics, working closely with its stakeholders to set the highest codes of conduct in the industry. MKS PAMP developed Provenance, a traceability solution that utilizes blockchain to trace precious metals along the supply chain and guarantee responsible sourcing globally. MKS PAMP aims to create value by leveraging its technical expertise, innovations, and global infrastructure to be an indispensable global partner and the most sustainable organization in the precious metals industry.