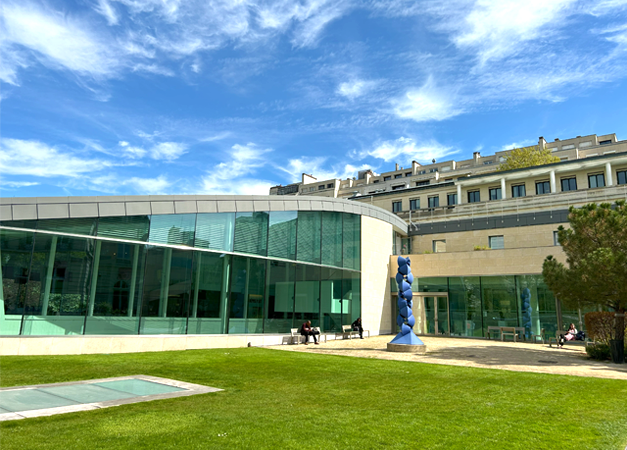 May 2023
Unleashing the Potential of Artisanal and Small-Scale Gold Mining: Insights from the OECD Responsible Mineral Supply Chains Forum
Our team recently attended the OECD Responsible Mineral Supply Chains Forum in Paris to discuss in two dedicated panel sessions the importance for the industry to support responsible Artisanal Small-Scale Gold Mining (ASGM) and their challenges, including accessing international markets.
Swiss Better Gold (SBG) led a session featuring Xavier Miserez, Head of Sales at MKS PAMP, alongside other SBG members, exploring the association's positive impacts on ASGM 10 years after its launch and the current sector landscape.
MKS PAMP organized a session with the Bank of Ghana, focusing on central banks and key stakeholders' role in supporting responsible ASGM' access to global markets.
The session, moderated by Olivier Demierre, ESG Supply Chains Senior Manager at MKS PAMP, included representatives from Bank of Ghana, Banque de France, World Gold Council, London Bullion Market Association (LBMA), and MKS PAMP.
Our Key Takeaways from the sessions:
Artisanal and Small-Scale Mining: Opportunities and Initiatives for Empowerment and Growth
It is estimated ASGM supports approximately 20 million miners worldwide and the livelihood of approximately 100 million people.
Recent initiatives in Ghana, presented by MKS PAMP and the Bank of Ghana, emphasize the importance of local presence and strategy, responsible sourcing, due diligence and segregation to form compliant ASGM supply chains that can be scaled up.
This collaboration results in the sourcing of ASM gold from Ghana, leading to positive social impacts including but not limited to reforestation and community engagement.
As highlighted in the Swiss Better Gold's session, through engagement of watch and jewelry makers and investment funds such as Breitling and the Swiss Positive Gold Fund, end-customers and investors can participate to on-the-ground environmental and social impacts for ASM gold communities.
Still, the sector faces ongoing challenges, as demonstrated by the LBMA with a 27% decrease in ASM gold sourced by Good Delivery List (GDL) refiners between 2019 and 2020.
Central Banks' Support for Gold ASGM Access to International Markets and Addressing Challenges
Central banks are increasingly involved in the gold supply chain to bolster the local economy, raise public revenue, and build gold and foreign exchange (FX) reserves, driven by political will and a desire to integrate ASGM revenues into the domestic economy.
By purchasing gold from the ASGM sector using domestic currency, they can better manage price stability in their country.
Furthermore, by promoting best practices and addressing challenges such as isolation, informality, meeting due diligence and transparency requirements, Central Banks can help favor ASM gold's access to the LBMA market.
Playing a critical role in formalizing and implementing state-level regulatory frameworks for the ASGM sector, Central Banks can leverage their influence to enforce these frameworks, ultimately supporting the ASGM sector in overcoming its challenges.
Implementing a Suitable Framework for Supporting Gold ASM Access to International Markets
To effectively support ASGM access to international markets, a suitable framework must address several key areas:
Support formalization efforts that comply with adopting OECD and LBMA standards in local mining codes considering the realities on the ground, fostering progressive compliance and continuous improvement, and seeking government support for regulatory improvement and adaptation;
Strengthen capacity by developing infrastructure compliant with industry criteria, including official assay laboratories, to ensure fair market prices for miners locally;
Implement a fiscal framework bolstering formal gold flows and providing necessary resources for infrastructure development and funding;
Create secure transportation systems for gold shipment from remote areas to central banks, addressing risks and security challenges.
Conclusion: Harnessing the Power of Collaboration
Effective collaboration between central banks, international organizations, and the private sector is essential for progressing to responsible ASGM practices and supporting artisanal miners' access to international markets. Public-private partnerships are instrumental in achieving these goals.
Initiatives such as the LBMA Task Force and the World Gold Council's SGM Domestic Purchase Study Group focus on supporting knowledge sharing, enhancing good practices and improving financial access to foster sustainable growth in the gold sector.
Non-profit organizations like the Swiss Better Gold Association enact continuous improvements in artisanal and small-scale mining communities and facilitate the development of responsible, traceable and resilient supply chains from ASM operations in the precious metals industry.
By pursuing our work together, we can unleash the potential of ASM gold mining and encourage responsible practices throughout the sector.