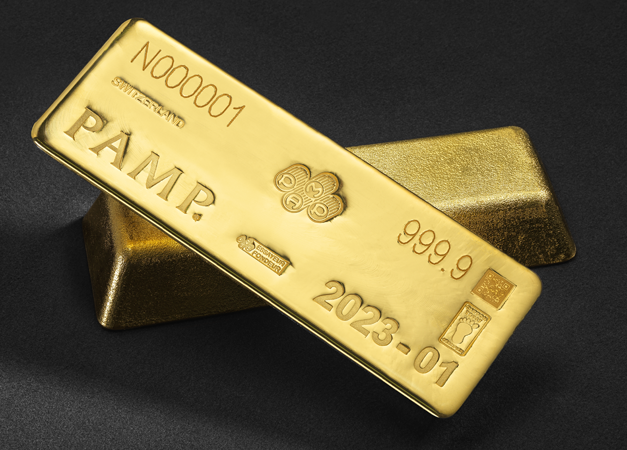 Mar 2023
MKS PAMP Partners with UBS for its New Carbon Neutral Gold Backed ETF
Geneva – March 29, 2023 – MKS PAMP, a provider of financial and physical trading services, and a widely accredited precious metals refinery, announced today its partnership with UBS as the sourcing partner of its new 'Carbon Compensated Gold Exchange Traded Fund' (ETF). The ETF is the first of its kind, backed by Carbon Neutral gold bars that are supplied by MKS PAMP and certified by the global climate consultancy, the Carbon Trust.
In line with its long-standing commitment to carbon reduction, MKS PAMP is dedicated to continuously providing more environmentally conscious gold products to its customers. Through its Carbon Neutral gold bars supplied to UBS for its new ETF, climate risk-oriented clients can invest in certified gold that meets strict environmental criteria and mitigate the carbon footprint of their portfolios.
Tamara Jomaa-Shakarchi, Head of ESG and Philanthropy, MKS PAMP, stated: "MKS PAMP is thrilled to be supplying UBS with its Carbon Neutral gold bars certified by the Carbon Trust. ETF clients can expect the gold bars' carbon emissions to be measured and neutralized, and a robust carbon management plan is in place to ensure continuous reduction in emissions. This initiative will contribute to advancing environmental consciousness in the gold sector."
MKS PAMP has worked with the Carbon Trust to achieve certification of its gold portfolio. The carbon footprint of MKS PAMP Carbon Neutral gold is initially measured and certified, and a carbon management plan is developed to achieve yearly emissions reductions. The outstanding, non-abatable emissions are then compensated by carbon offsets contracts, certified by Verified Carbon Standard (Verra), the global leader in voluntary GHG reduction.
To neutralize the outstanding emissions of the UBS ETF gold bars, MKS PAMP purchased carbon offsets from an International Carbon Reduction and Offset Alliance (ICROA) endorsed standard, and supplied by ClearSky, a provider of integrated climate solutions. The project supports afforestation in Vichada, Colombia, promoting connectivity between ecosystems and creating more than 200 full-time employment opportunities in an area historically affected by poverty. The afforestation activities aim to increase forest cover, sequester carbon, and reduce GHG emissions.
Pietro Rocco, Head of Green Finance, the Carbon Trust, commented: "The Carbon Trust is pleased to have supported MKS PAMP in certifying its 1kg and 12.5kg gold bar products as carbon neutral, and we congratulate UBS for this significant milestone. This collaboration marks an important step in the companies' sustainability journeys. We hope it will encourage the finance sector to pursue its ambition and accelerate the move towards a Net Zero future."
Ends
Notes to editors:
For further enquiries, please contact: Gloria Folidis / e: gloria.folidis@mkspamp.com / t: +41 22 818 52 74

About MKS PAMP
With a global footprint and over 60 years of experience in the precious metals industry, MKS PAMP – part of the MKS PAMP Group – is dedicated to creating a sustainable future with precious metals products and services. The company offers the world's most extensive range of durable, innovative, and responsibly sourced precious metal products and services. The company builds on leading artisan savoir-faire and Swiss engineering to manufacture a wide range of precious metals products and in various forms, and provides precious metals services such as trading, refining, vaulting and storage, treasury, and mine financing.
Still managed by the founding family, MKS PAMP is an advocate for long-term thinking, responsible sourcing, sustainability, and ethics, working closely with its stakeholders to set the highest codes of conduct in the industry. MKS PAMP developed Provenance, a traceability solution that utilizes blockchain to trace precious metals along the supply chain and guarantee responsible sourcing globally. MKS PAMP aims to create value by leveraging its technical expertise, innovations, and global infrastructure to be an indispensable global partner and the most sustainable organization in the precious metals industry.
For more information on MKS PAMP and its decarbonization progress, visit mkspamp.com/carbonneutralgold or email ESG@mkspamp.com