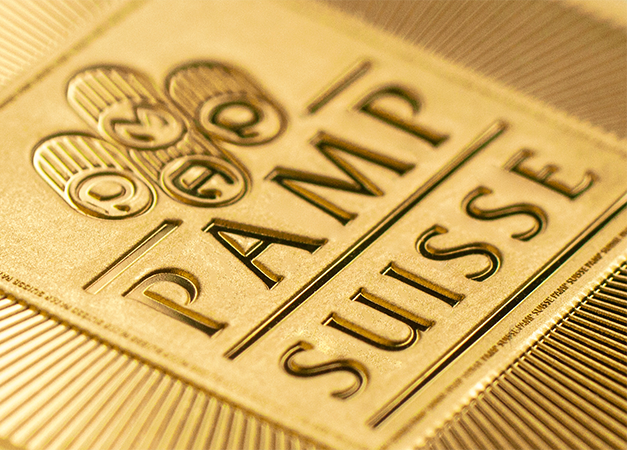 Mar 2023
MKS PAMP introduces the PAMP Suisse 999.9 fine gold 1oz minted bar
Ticino – March 8th, 2023 – MKS PAMP, a provider of financial and physical trading services and a state-of-the-art precious metals refinery and bullion brand, today launches the newly redesigned PAMP Suisse 999.9 fine gold 1oz minted bar. Featuring an exceptional and distinctive design, the PAMP Suisse 1oz 999.9 fine gold ingot joins the brand's minted bars collection that includes the most recognized and prestigious bullion bar design in the world: the industry recognized and widely successful Lady Fortuna™.

"The PAMP Suisse 1oz minted gold bar joins the Lady Fortuna™ collection of minted ingots as part of our minted bullion range, with each of these two bullion designs offering distributors and consumers uniquely distinctive benefits, produced to the superior quality standards for which the PAMP brand is trusted and known", declared Marwan Shakarchi, CEO, MKS PAMP GROUP.

A homage to PAMP's heritage, the design of the PAMP Suisse bar is adapted from the brand's original founding logo – a central square framing the widely recognized PAMP hallmark. Along with its official CertiPAMP™ assay card packaging guaranteeing the metal's fineness and weight, the new minted bar features an exclusive attribute: advanced laser technology is used to micro-engrave the 'PAMP SUISSE' name along the square border; an innovative feature that can be viewed only through a magnifying glass or jeweler's loupe, which furthers MKS PAMP's longstanding commitment to fighting against counterfeit precious metals products.

"With the PAMP Suisse bar, our aim was to develop a bullion product that echoes the brand's Swiss roots yet introduces a timeless design to our minted bars collection. The combination of minting techniques – a brilliant uncirculated bullion finish combined with the light-refracting micro-ridges  emanating from the center, along with exceptional precision minting, for which PAMP is trusted worldwide,  – is the result of the know-how, the craftsmanship and the perpetual innovation that characterize the PAMP brand", declared Jennifer Holmes, Vice-President, Product Management, Minting, MKS PAMP.

The minted PAMP Suisse bar of 999.9 pure gold is now available for wholesale purchase through MTB, the MKS PAMP GROUP's global distributor of bullion bars and coins. Retail consumers can purchase the product from the Group's online retailer GOLD AVENUE and from PAMP-authorized distributors and retailers  – listed here.


Ends.
 
Notes to editors
For further enquiries, please contact: Gloria Folidis / e: gloria.folidis@mkspamp.com / t: +41 22 818 52 74

About MKS PAMP
With a global footprint and over 60 years of experience in the precious metals industry, MKS PAMP – part of the MKS PAMP GROUP – is dedicated to creating a sustainable future with precious metals products and services. The company offers the world's most extensive range of durable, innovative, and responsibly sourced precious metal products and services. The company builds on leading artisan savoir-faire and Swiss engineering to manufacture a wide range of products in all four precious metals and in various forms, and provides precious metals services such as trading, refining, vaulting and storage, treasury, and mine financing.
Still managed by the founding family, MKS PAMP is an advocate for long-term thinking, responsible sourcing, sustainability, and ethics, working closely with its stakeholders to set the highest codes of conduct in the industry. MKS PAMP developed Provenance, a traceability solution that utilizes blockchain to trace precious metals along the supply chain and guarantee responsible sourcing globally. MKS PAMP aims to create value by leveraging its technical expertise, innovations, and global infrastructure to be an indispensable global partner and the most sustainable organization in the precious metals industry.
For more information about MKS PAMP, the PAMP brand and its products, visit https://www.pamp.com/