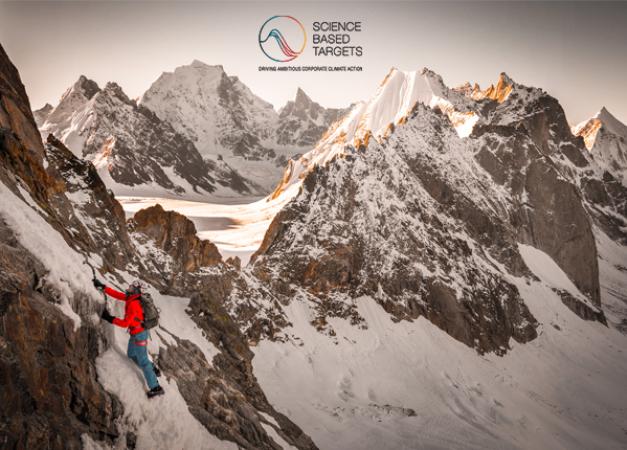 May 2022
The first precious metals company to have science based carbon emissions reduction targets approved
Geneva – May 18th, 2022 – MKS PAMP, a provider of financial and physical trading services, and state-of-the-art precious metals refinery, announced that it is the first precious metals company in the world to have SBTi approved carbon emissions reduction targets, committing to a 1.5°C emissions reduction in line with the Paris Agreement.
"This announcement is a pivotal time for MKS PAMP, which builds on our long heritage as a leading sustainable precious metals company. As we join over one thousand companies on their journey towards decarbonization, we hope to lead the way in terms of carbon emissions reduction in the precious metal industry in particular." said Marwan Shakarchi, CEO, MKS PAMP.
A roadmap to reducing carbon emissions
MKS PAMP has committed to reducing absolute scope 1 greenhouse gas (GHG) emissions 46.2% by FY2030 from a FY2019 base year. The company has also committed to continue annually sourcing 100% renewable electricity through FY2030. Furthermore, MKS PAMP has committed to reducing absolute scope 3 GHG emissions 27.5% by FY2030 from a FY2019 base year. MKS PAMP will engage and work closely with its clients, partners and suppliers to achieve its sustainability targets and decarbonization across its value chain.
"At MKS PAMP, we are proud to be the first precious metals refinery to have set SBTi approved carbon emissions reduction targets. Our ambition requires transformative actions, and we are excited to continue collaborating with our partners across the industry to ensure that we meet them." said Tamara Jomaa-Shakarchi, Head of ESG, MKS PAMP.
The reason for setting Science-Based targets
Sustainability has been incorporated in MKS PAMP's strategy since 1979, when Mahmoud Shakarchi founded the family-run business with the view of building value for generations to come. Science-based targets show companies how much and how quickly they need to reduce their GHG emissions to prevent the worst effects of climate change. The precious metals industry has an important role to play, and MKS PAMP is committed to working alongside its partners to achieve its targets.
"We congratulate MKS PAMP on setting science-based targets consistent with limiting warming to 1.5°C, the most ambitious goal of the Paris Agreement," said Alberto Carrillo Pineda, Managing Director, Science Based Targets at CDP, one of the Science based Targets initiative partners. "By setting ambitious science-based targets grounded in climate science, MKS PAMP is taking action to prevent the most damaging effects of climate change."
Ends.
Notes to editors:
For further enquiries, please contact: Alix Cassigneul / e: alix.cassigneul@mkspamp.com / t: +41 22 818 52 50
About MKS PAMP
With a global footprint and over 60 year of experience in the precious metals industry, MKS PAMP – part of the MKS PAMP Group – is dedicated to creating a sustainable future with precious metals products and services. The company offers the world's most extensive range of durable, innovative and responsibly sourced precious metal products and services. The company builds on leading artisan savoir-faire and Swiss engineering to manufacture a wide range of products in all four precious metals and in various forms, and provides precious metals services such as trading, refining, vaulting and storage, treasury and mine financing.
Still managed by the founding family, MKS PAMP is an advocate for long-term thinking, responsible sourcing, sustainability and ethics, working closely with its stakeholders to set the highest codes of conduct in the industry. MKS PAMP developed Provenance, a traceability solution that utilizes blockchain to trace precious metals along the supply chain and guarantee responsible sourcing globally. MKS PAMP aims to create value by leveraging its technical expertise, innovations and global infrastructure to be an indispensable global partner and the most sustainable organization in the precious metals industry.
For more information on MKS PAMP and its decarbonization progress, visit www.mkspamp.com/ESG or email ESG@mkspamp.com